Torrin Breneman (2-26-05 to 12-15-18)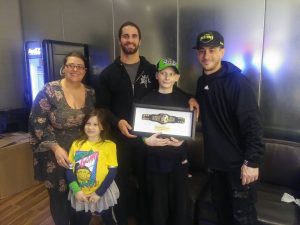 It's hard to believe that on December 15th Torrin passed away. We have decided to go ahead with the January 26th show. This show now will be dedicated to celebrating the life of Torrin. We have already issued the family a check ahead of the show to assist with final expenses. I think we will be able to give the family even more the night of the show. The show is sold out.
I had the pleasure of meeting Torrin in October when we took him to a professional wrestling show. I was impressed with how much he knew about wrestling and was so happy he had a great time at the show.
What really impressed me about Torrin was his kindness and putting others first during his battle. Torrin left a huge impact on everyone who had the pleasure of meeting him.
Our charity "A Mission Of Love" wants to do something to see that his legacy lives on. We will be making an announcement for an idea we have to keep his legacy and his name live on.