Savanah In Her Own Words.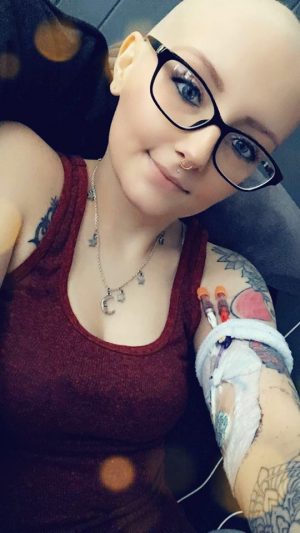 On Friday April 12th Comedy 4 Cancer presents "Out Of The Hall" at Sweetwater Entertainment - 1450 South Hospital Road - Waterford Township, MI 48327.  All proceeds from this show will go to Savanah Dombrowski.
Here is her story in her own words.
My name is Savanah Rose Dombrowski and I am 24 years old and from Clarkston, Michigan. Unexpectedly, in June of 2018, I was diagnosed with Acute Lymphoblastic Leukemia. It all started off with me being in the hospital for a week with a high Calcium Level of 17.6. The normal Calcium Level in someone my age is 10.
I had specialist's come in and out of my room telling me they had no idea why my level was so high or what was going on with me. I left the Hospital with no real solid answers on what was going on with me but then for them to tell me, "It could be Cancer but we're testing all the non serious stuff before we get to the serious diagnosis". Of course I left the hospital frustrated, scared and completely not knowing what was going on with me.
I then went back to work still sick. Day by day I woke up with multiple bruises and my body hurt so badly for no reason. I simply thought it was just the Flu or maybe a bad Cold that made my body ache so badly. A week after I got out of the Hospital for my High Calcium Level, I decided to drive myself up to Saint Joseph Mercy Hospital in Pontiac once again.
I had awoken to excruciating pain. I could barely move and any time I did move, it felt like all my bones were breaking at once. I have never in my life felt pain like that. I remember crying and moaning from the amount of pain I was in. Morphine wasn't doing anything and I was terrified of what was happening to my body.
I was at the Hospital for about 8 hours when they came into the room and told me they looked at my blood under a scope and something was attacking my White Blood Cells and right then and there about 5 Doctor's came in to tell me I had Leukemia and they needed to get me in an ambulance to U of M right away. I had no idea what to think? So many things were crossing my mind. All I could do was put my head down and cry. My Mom, Sister's and my Family came up to the Hospital for the horrible news.
When I got to U of M, they started Chemo right away and told me if I didn't drive myself up to the hospital that day that I would of been Dead within two days!!! My Cancer was acting that fast. I made the decision to Shave My Head before the Chemo took all my hair away from me. I didn't want to see it all fall out, so I was keeping something in, "My Own Power" and shaved my head myself.
I spent a whole month at U of M going through Chemo. Then I got to go home at the end of July. I then continued Chemo, going to Ann Arbor twice a week. It was the hardest thing I've ever been through. I was so sick I couldn't do anything, I couldn't even care for my 2 Children. I was defeated. I cried everyday asking god why me? Why is this happening?
In September of 2018, I was to undergo a Bone Marrow Transplant. Come to find out, my Mom was my match. Such a blessing it was to know that soon, I wouldn't be in pain and I would be Cancer FREE. Before I could get my Transplant I had to go through more Chemo and Radiation. I was so sick but so blessed that I was strong enough to fight it and me being young, I had a real fighting chance.
I got my Bone Marrow Transplant, everything went really well and a week into my Transplant, I got news that I had GVHD (Graft Versus Host Disease.) That means my body was trying to reject my Mom's Stem Cells and they had to act quick to stop it. I was put on many different medications to help with the GVHD. I was suppose to go home on Thanksgiving but they had to keep me longer because of the GVHD.
I spent two months in Motts Children Hospital healing from the GVHD and my Transplant. then finally... I got the news that my GVHD was getting better and I was able to go home on the 21st of December. I was so happy to be home with my family on Christmas. It was the biggest blessing I could ever ask for. I am now 53 days into Transplant and on day 100 I will be going back to Motts Children Hospital to receive a Bone Marrow Biopsy to make sure no more Leukemia is in my bone marrow. I will continue to keep fighting.