Suzanne Lewis. In Her Own Words.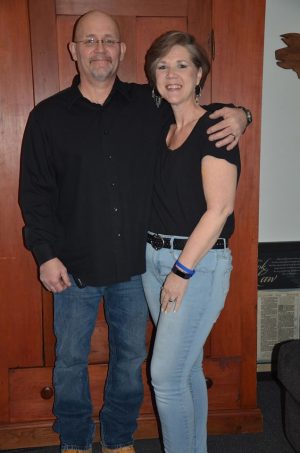 MY JOURNEY – MY FIGHT March 1987 My first cancer diagnosis occurred when I was 16 years old. I was diagnosed with Hodgkin's Lymphoma. I had 5 malignant tumors between my neck and the top of my lungs. The cancer was also in lymph nodes ranging from the neck to pelvis. The chemicals used to kill the cancer cells was such a heavy duty 'cocktail' that it caused many other physical problems.
The chemicals were so harsh that after throwing up, I had to immediately rinse my mouth over and over or risk the chemicals eating away the enamel on my teeth and/or getting sores in my mouth. Many times I couldn't eat at all. I was so sick and weak at times, I couldn't leave the house.
The radiation used was such a high dosage that it turned the color of the skin on my chest brown, like a partially healed burn. It also caused irreversible damage to the tops of my lungs and the muscles in my shoulder and neck. Chemotherapy and radiation therapy began in April and lasted until September, when the cancer was deemed in remission. February 1988 Again, I had a diagnosis of Hodgkin's Lymphoma. The doctors were more aggressive this time. They performed a laparotomy, a diagonal incision from below the left breast to the right pelvic area (110 staples to close!). They removed my spleen and repositioned the ovaries in an effort to preserve my reproductive health for future children.
I started chemotherapy and radiation therapy again in March and it was grueling. I thought the treatments would kill me not the cancer. Treatments continued until October 1988 when, once again, they said I was in remission. Moving On After getting my strength and stamina back, I went on with my life. Since my education had been interrupted and life went on around me, I had to try to catch up. I went back to school and got my GED. I then attended college and pursued a career in sales. I almost completely shut out cancer memories and simply lived.
Fast Forward to February 2017 I was diagnosed with anal cancer. We were shocked. I knew I was having some issues but anal cancer??? Did they mean colon? Rectal? Nope…anal cancer. I immediately set my mind to investigation and research. I knew cancer right? Wrong! Anal cancer is a very rare cancer affecting only approximately 8000 people in the United States every year. Therapy is grueling. I was never afraid of the cancer…only the treatment. I had done this before so I knew what to expect. Wrong again! The protocol for anal cancer treatment is pelvic radiation therapy for 6 weeks every day and concurrent chemotherapy. I have never felt pain like the radiation therapy and was completely incapacitated for about 5 months due to chemotherapy and radiation. I continue to suffer the effects of radiation to this day. For the rest of my life I can not have even one x-ray to my chest area.
March 2018 Breast cancer. Unreal….In April 2018 I underwent a double mastectomy. At the time of the mastectomy they did a lymph node biopsy to confirm that the cancer was only in the right breast and hasn't spread. We had prayed for localized cancer and that the surgeon could remove it and we would seek treatment afterward. To our surprise the cancer was very small. They caught it very early. Only oral chemo for 5 years for me. Sounds good right? Wrong….again! This chemo was tough in the way that is aged me about 40 years. My oncologist wasn't the least bit surprised that I wanted to quit. He told me I was going to feel severe joint and muscle pain, weakness, fatigue and nausea. I did NOT want to do this again. I quit the oral chemo with the promise to my oncologist that I would revisit another chemo pill in 3 months.
Little did we know that in three months we would have another devastating diagnosis. February 2019 Before I went back to see the oncologist I had a routine CT scan to track the condition of the tumors. This is common when you have had cancer. The CT scan showed that multiple lymph nodes had started to grow in the periaortic area (around the aorta). HERE WE GO AGAIN!. Anal cancer had come back and this time it was to be, in my oncologist's words, "the fight of my life". I will have to undergo chemotherapy every 12 days for about 6 months. I will have a 4 hour infusion and then go home with a chemo pump for 2 more days, then go back and have the pump removed.
While undergoing traditional treatment I am also under the care of a naturopathic oncologist who supports me with his expertise in supplements, essential oils, therapeutic massage, detoxing, exercise and any other holistic approach that will make fighting this horrific disease more tolerable. None of this is covered my insurance. Why? Because they aren't your 'run of the mill' treatments? THIS NEEDS TO CHANGE! These things make traditional treatment work better, the quality of life better. I wish I had time to fill in all the blanks of "my story". Trust me, if you ask me, I will oblige.
My most humble thanks with a heart full of gratitude to everyone who has prayed, offered help, or hope, or come to the aid of my family while we endure yet another walk down the road of cancer diagnosis and treatment. Although statistically the odds are not good for metastatic anal cancer, I trust God. He has a plan for me. I don't claim to understand it all and at this point does it really matter? I just want to fight hard and live long. Thank you for helping me in my fight! No one fights alone! Suz