January 26th. All 4 Torrin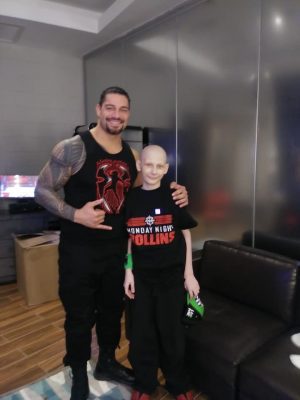 January 26th we return to the UAW Local 228 Hall for our next Comedy 4 Cancer show. The profit from this event will be donated to 13 year old Torrin Breneman and his family. This young mans story is without a doubt one of the most heartbreaking stories I have ever heard about.
Here is a story from People magazine done last year about this brave young man.
A 7th-grade boy is in the ICU after being diagnosed with a life-threatening illness, just six months after he donated his hair to benefit children with cancer.
Torrin Breneman, 12, spent three years growing out his locks after learning about cancer in his fourth-grade class. In March, after enduring bullying and being called a girl by strangers, he donated his long hair to Wigs for Kids—a charity that provides no-cost wigs to children going through cancer therapy or other medical issues.
But at the end of September, just six months after his donation, doctors discovered Torrin had developed stage 4 Hodgkin's lymphoma.
"He has a tumor next to his heart, which doctors say is inoperable, and he has one on each lung, his liver, his kidney, his stomach and it's in his blood and bones," Torrin's father, Jason Breneman, 38, of Hazel Park, Michigan, tells PEOPLE. "He's on so many IV drips and so many medications. He can't even lay down straight because of the tumor in his stomach."
Hodgkin's lymphoma is a rare cancer that affects the body's lymphatic system and inhibits the body's ability to ward off infections. The American Cancer Society says about 10- to 15-percent of cases involve children and teenagers, and in 2017, there have been more than 8,000 news cases of the disease and more than 1,000 deaths.
Jason and his wife, Carrie Breneman, 36, left their full-time jobs after Torrin's diagnosis, and have spent much of their waking hours at Children's Hospital of Michigan in Detroit to be by their son's side.
"He's going to need longterm care," Jason says through tears. "I can measure my sleep in seconds, not minutes. Carrie is absolutely amazing and she has been able to stay strong. I can't handle it, I've been torn up."
The family has not been short on emotional blows. After Torrin's diagnosis, members in their Hazel Park community brought over gifts to cheer up Torrin and his 7-year-old sister, Julissa, but burglars stole them from the family's home while they were at the hospital. Fortunately, after a story aired on local television, the gifts were returned the next day.
For Torrin, being away from his sister while in the ICU has been especially hard—Julissa has only been allowed to see him a few times since he's been admitted.
"They constantly want to be with each other," Jason says. "They have never spent more than a few hours away from each other, it's tearing them apart. It's hard for her."
One thing that kept Torrin happy was the chance he might be able to go to a WWE event in Detroit on October 8, thanks to Rainbow Connection, a local charity that helps young cancer patients. The organization was able to secure tickets and doctors initially told Torrin he would be able to go, but they reversed their decision a day before the event. The news crushed Torrin, who is a huge wrestling fan.
"Not only is his health down, but now his spirits are down too, and he's depressed," Jason says.
Right now, one of the primary issues doctors are facing is finding a way to keep Torrin's temperature stabilized, since it fluctuates between being high and low from day-to-day. But a recent CAT scan showed the cancer is responding to chemotherapy treatment, and doctors remain optimistic, Jason adds.
The family has set up a GoFundMe page that has raised just over $9,000 as of October 9. Through it all, Torrin's parents are inspired by the way their Detroit community has banded together for the family—from putting on garage sales and fundraisers—even though many of its members may have limited resources.
"Now that we're not able to work, the neighborhood is taking care of us," Jason says. "Everyone from the community is raising money they don't have, everyone is coming together."