Dear Cancer F-Off Lineup Set.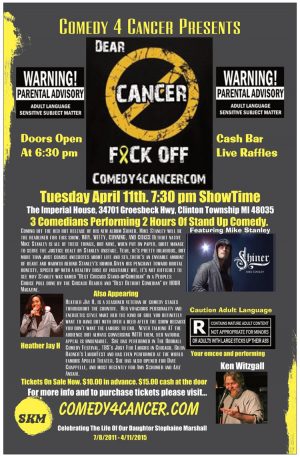 April 11th Lineup .

The lineup is all set for our next Comedy 4 Cancer show as we present Dear Cancer F-Off. We have 3 comedians bringing you 2 hours of stand up comedy. The show will take place 2 years from the day we lost our daughter Stephaine to cancer. Besides being a fundraiser this event will also be dedicated to celebrating her life.
Headlining this show will be Mike Stanley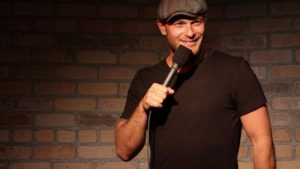 WRY, WITTY, CUNNING, AND CRASS Detroit native Mike Stanley is all of these things, but none, when put on paper, quite manage to serve the justice dealt by Stanley onstage. Yeah, he's pretty hilarious, but more than just coarse anecdotes about life and sex,there's an enviable amount of heart and warmth behind Stanley's humor.
Given his penchant toward brutal honesty, spiced up with a healthy dose of insatiable wit, it's not difficult to see why Stanley was named "Best Chicago Stand-up
Comedian" in a Peoples Choice poll done by the Chicago Reader and "Best Detroit Comedian" by HOUR Magazine.
Originally hailing from Detroit, and after spending a decade honing his craft in the Windy City of Chicago, Mike tours constantly, both domestically and internationally. Don't miss out on an incredible opportunity to catch the man in action - this high level of killer stand-up is too remarkable to sit out.
ACCOLADES:
-2005 Winner : "Last comic still standing competition" , Rochester NY.
-2005 Winner : " Joey's comedy club , Comedy Competition" Livonia , MI.
-2005 Top Three : "Michigan Up and comers"
-2006 Winner : " Canadian Mist Whiskey Comedian of the year"
-2007 : Highlighted as a "stand out" at the first "Detroit Comedy
Festival"
-2008 : Semi-Finalist in the "Boston Comedy Festival "
-2008 : Mike was voted "Readers Choice " in the "Best Chicago Stand Up
Comedian" Category of the Chicago Reader Newspaper.
-2009 : Signed onto the Grammy award winning STANDUP! RECORDS .
-2009: Mike was voted in the top 10 of the "Best Chicago comedians" by
Comedy.com
-2010: Semi-Finalist in the "Boston Comedy Festival "
-2011: Performed at the "San Francisco Comedy Festival"
-2012 : "Best of the Midwest " Gilda's Laugh Fest.
-2012: TBS Just for Laughs Festival.
-2013:  Was a featured at the 2013 TBS Just for Laughs Festival, one of four comedians given a dual headlining show.
-Guest on the Adam Corrola Show.
-2013: Funny or Die Oddball festival featuring Dave Chapelle.
-2014: LAUGHS national television appearance on Fox.
- 2015: 2nd Appearance on national television LAUGHS. On Fox.
-2015: Akumal Comedy Festival- Mexico - sponsored by Stand Up! records.
- 2016: Cape Fear Comedy Festival.
- 2016: Funny or Die Oddball Festival.
- 2016: Cincinnati Brew Ha Ha Festival.  
- 2016: Altercation Comedy Fest. Austin, TX.
Joining Mike will be our featured performer Heather Jay H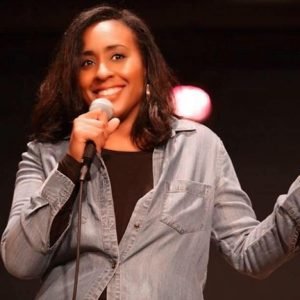 Heather Jay H, is a seasoned veteran of comedy stages throughout the country.  Her vivacious personality and energetic style make her the kind of girl you definitely want to hang out with over a beer after the show because you don't want the laughs to end.  Never talking AT the audience but always conversing WITH them, her natural appeal is undeniable.  She has performed in The Oddball Comedy Festival, TBS's Just For Laughs in Chicago, Gilda Radner's LaughFest and has even performed at the world famous Apollo Theater. She has also opened for Dave Chappelle, and most recently for Amy Schumer and Aziz Ansari. 
Rounding out the lineup is our Emcee Ken Witzgall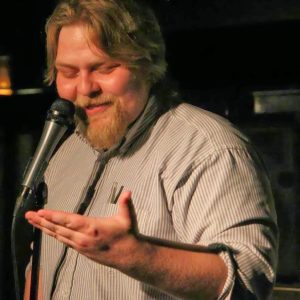 Ken jumped into Chicago's formidible standup scene in the spring of 2008 and has been making waves ever since. At once bombastic and considerate, Witzgall's physical presentation draws inspiration from screamers like Sam Kinison and Lewis Black, though with the focus of his jokes aimed at the absurdities of modern life and his own inabilities to fit therein, with a dash of silliness and self-deprication drawn closer to the mold of Samuel Clemens or Woody Allen.
Ken is an experienced MC and featured performer, boasting regular hosting gigs at the Edge Comedy Club, the Old Town Pub, various open mics and even a short stint with his own production company, the now-defunct Gorilla Comedy. Elsewhere, Ken has been performed as a feature at showcases throughout the Chicagoland area, such as Rotten Comedy (at the Oakwood Tavern), the Two Hour Comedy Hour (at the Gallery Cabaret), Bada Brew (Crest Hill, IL), Laugh! (Bloomington, IL), the Strutt (Kalamazoo, MI), and the Round Lake Comedy Rounders (Round Lake, IL). Plus one time he opened for TJ Miller, which is pretty badass.
Besides 2 hours of stand up comedy we will also have our popular gift basket raffles. The first one we have for this event is donated from WWE superstars and it features 5 t-shirts, plus signed framed photos from Roman Reigns and John Cena.
Our last show sold out so make sure to get your tickets in advance.
Purchase Tickets