Free Comedy Show.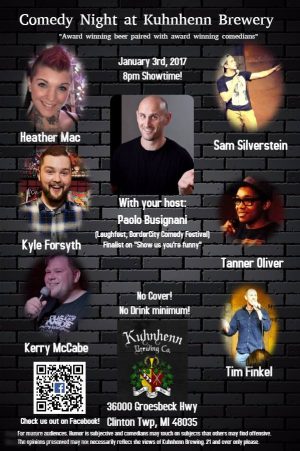 Tuesday, January 3, 2017 at 8 PM .
Comedy Night at Kuhnhenn Brewery. 38271 S Groesbeck Hwy, Clinton Township, Mi, 48036
Welcome to another great night of award winning Kuhnhenn beer paired with award winning comedians. Featuring some of the best local up and comers mixed in with national headlining comedians, you never know who might pop in. Brought to you by your host and Kuhnhenn favorite; Paolo Busignani.
Lets meet our comedians!
Heather Mac: Also an accomplished musician, Heather has performed comedy around the Detroit area and was a finalist in the "Best New Comic" contest at Joey's Comedy Club.
Kerry McCabe: Another musician turned comedian, Kerry has graced stages in big cities, and also towns that you can't find on map. Mixing his band experiences with modern life, his comedic style is entertaining to say the least.
Tim Finkel: A relative newcomer to comedy and creator of Laughs 4 wishes, Tim has perform in clubs and contests around the Detroit area. His musings on his family life and being a dad makes you wonder if having kids is right for you, or him.
Kyle Forsyth: When you mix a bunch of absurdity with a splash of wordplay, a touch of irreverent opinions, a whole lot of energy, and you have a Kyle Forsyth. At only 22 years old, Kyle has barely even tapped his potential and is already making a name for himself by performing on stages all across Michigan and the Midwest or anywhere that serves good barbecue and has a microphone. Kyle has opened for the like of Brian Posehn and performed at Gilda's Laughfest and the Traverse City Comedy Festival.
Tanner Oliver: Tanner has been doing comedy for 4 years in the great state of Michigan and he's guaranteed to make you laugh. blending the real with the surreal and never letting up the pace, he'll leave you with something to talk about! As founder of the Bottomline Coffee Mic, he actually managed to do the impossible (making hipsters laugh) Tanner has performed at great venues such as Mark Ridleys Comedy Castle, The Ann Arbor Comedy Showcase and was featured in Eastern Laugh Lounge series this year.
"
Sam Silverstein: An up and coming comedian from the Metro Detroit area. Sam has been doing stand up comedy for three years and making people laugh for one year. He tells it like it is through the eyes of a 20 year old learning about all the "great" things that being an adult has to offer.
He created his own show titled "Laughter is the Cure" that combines stand up comedy with video to put on an epic live on stage performance. He has performed his show at various Universities across the midwest in front of numerous sold out crowds. Sam donates all of the proceeds from his shows to CS Mott Children's Hospital in Ann Arbor, MI to benefit childhood cancer. He currently has no formal awards although his friend Shane has been quoted saying "You're a funny man, you know that?"
Sam dropped out of college and moved back home with his parents to pursue his dreams full time. Watch your wife because at 20 years old, Sam is wasting no time searching for an older woman to sponsor his dreams and get him out of his parents house.
More of Sam's work can be found at (laughteristhecure.com)
To register your free seat to this show click here.