Steve Lind "One More Time"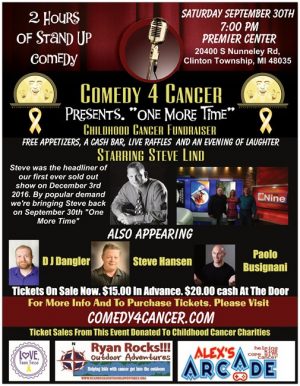 Saturday September 30th. 7 PM.
 Steve Lind will be replacing our originally scheduled headliner on Saturday September 30th. When we debut at the Premier Center, 20400 S Nunneley Rd, Clinton Township, MI 48035. Doors open at 6 pm with free appetizers being served. Showtime is 7 pm.
Steve has been a big part of Comedy 4 Cancer and our childhood cancer charity "A Mission Of Love"
He was the feature performer on our very first show, performed at our childhood cancer awareness rally in September 2016 and headlined our only sold out show on December 3rd 2016. Steve has also helped us promote our events. Appearing with me on Amy's Angels on FOX 2 this past Thanksgiving.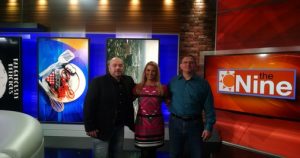 Steve Lind returns "One More Time" on September 30th in a show that proves Teamwork Makes The Dream Work. Ticket sales from this show will be split with 3 childhood cancer charities. Those charities are Love, Team Tessa who provide financial assistance for families and raise funds for pediatric cancer research. The charity is named after a brave 9 year old girl who passed away from cancer on June 17th of this year.
The next is Ryan Rocks. Ryan Rocks Outdoor Adventures is a 501(c)(3) nonprofit that provides children with Pediatric Cancer diagnosis and their immediate family an awesome outdoor adventure. RROA looks to provide these children with a memory that will last a lifetime. This charity is named after Ryan Miller who passed away from cancer on August 8th 2011.
The last charity is Alex's Arcade. Alex's Arcade helps children fight the battles of childhood cancer by escaping into the world of video games while in the infusion and hospital rooms. Founded by James & Nancy Craven in 2014.
Inspired by their son Alex, who at the age of 12 was diagnosed with Stage 4 Diffuse Large B cell Non-Hodgkin's Lymphoma of the bone on Monday April 4th, 2011. Alex is a survivor who i'm proud to say just enrolled at Michigan State University.
We're also helping two childhood cancer families at the show. The Sims family and The Pagel family will receive 100% of the proceeds from our live gift basket raffles that evening.
Tickets are only $15.00 in advance and $20.00 cash at the door. To purchase tickets click here
I hope you can join us for an evening of laughter all for a great cause.
Thanks for your support.
JD Marshall. President of "A Mission Of Love" childhood cancer charity and founder of Comedy 4 Cancer.