Special September 30th Ticket Promotion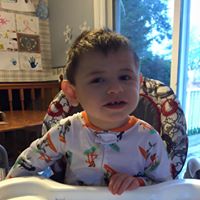 August 4th. 6 PM to 9 PM
 We will have tickets for sale for $15.00 cash for our September 30th Comedy 4 Cancer show at Quarters 4 A Cause on Friday August 4th. We will donate $5.00 from each ticket sold at the event to the Majors family. Quarters 4 a cause is a fun, fundraising event for groups big and small. It takes minimal effort on the groups part, and raises significant money while guests are having fun!
Quarters 4 a cause is a cross between bingo and an auction. You can win great prizes for only .25 cents. Admission to this exciting event is only $5.00 and it all takes place at the Fraser Lions Club located at 34540 Utica Rd, Fraser, Michigan 48026. Come out and show your support for this wonderful family. Here is some information about brave young Nathan and why they need these fundraisers.
Nathan was born a happy, healthy, twin boy on March 16, 2012. August 8, 2012, at the babysitters house, Nathan went limp and was barely breathing. At the hospital he underwent emergency brain surgery. His skull was cut to relieve the pressure. He was diagnosed with global brain damage, epilepsy, hydrocephalus, cortical vision impairment and severely delayed do to a non-accidental traumatic brain injury.
A shunt was placed for his hydrocephalus. He was on two strong seizure medicications along with sodium chloride to regulate his electrolytes. He had weekly blood draws. His doctors didn't know what he would be able to do but we were told not to expect much. He couldn't sit, roll over, eat solid foods, drank only from a bottle, didn't have good head control and wasn't aware of his surroundings. We heard of Hyperbaric Oxygen Therapy (HBOT)and since 3/17/2014, after fundraising and scholarships from the Oxford Kids Foundation, Nathan has had two rounds of a total of 80 treatments.
He is now off of sodium chloride, one seizure medicication and is currently being weened off the last medicication for seizures. He now sits unsupported, rolls both ways, his vision has dramatically improved, can self feed solid foods, drinks through a straw, babbles, is well aware of his surroundings and is strengthening his muscles and learning to walk with suit therapy. His neurologist never thought she would see him sit on his own let alone all the amazing things he does.
Unfortunately insurance doesn't cover any of these therapies. We are a single income family of seven as Nathan needs constant care. Our goal is to give Nathan every opportunity to improve his quality of life. We are asking for donations from you to be Nathan's Hero and help give him the life he deserves. No donation is to small. Thank you for your support!!
For more information about our September 30th show click here.