March 24th Sold Out Crowd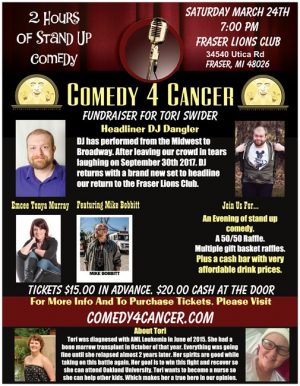 Thanks to all that attended our show March 24th. It was an honor to raise money and meet such a wonderful young lady named Tori. The show started off hot with Tonya Murray making her return to Comedy 4 Cancer, after appearing on our very first event in April 2016. After her set she was followed by Mike Bobbitt and DJ Dangler. Besides producing over an hour of laugh out loud comedy. Mike and D J also recorded the first ever Comedy 4 Cancer DVD.
Then next stop is hitting the road for the very first time as we head to Caro Michigan on Friday April 6th. As Comedy 4 Cancer presents "All 4 Ian". All proceeds from this show will be donated to 5 year old Ian and his family.
Tickets for that event are on sale now click here