September 20th
Comedy 4 Cancer Presents. "The Headliners"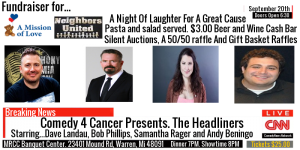 Friday September 20th, MRCC Banquet and Convention Center, 23401 Mound Road Warren, MI 48091
Doors open 6PM. Dinner 7PM. Showtime 8PM.
Starting our 4th season of Comedy 4 Cancer with one of our biggest shows of all time. When on September 20th we present "The Headliners". We're bringing you 4 headliners on one stage, on the same night to help out two Non profit charities. "A Mission Of Love" and "Neighbors United".
Join us for dinner and a show. Pasta and salad will be served. There will be a $3.00 beer and wine cash bar. Besides the stand up comedy show we will also have... A 50/50 raffle, silent auctions and gift basket raffles.
Doors open at 6:00PM. Dinner served at 7:00PM. Showtime 8:00PM
Let's meet the performers.
Bob Phillips is a smart aleck, nationally touring headliner who can be heard on SiriusXM satellite radio's Rawdog channel, seen on Fox's standup comedy series "Laughs," and the Anthony Cumia Show Featuring Dave Landau. Bob is also a contributing writer to Funny or Die, and is one half of the popular podcast "The Sal & Bob Show." Bob makes audiences laugh across the country with a clever blend of observational, topical, political, and everyday humor. From the weirdness of today's headlines, to growing up in the seventies, Bob covers a lot of ground. The Oakland Press calls him, "A secret agent with a wicked sense of humor." Sometimes biting, sometimes endearing, but always in charge, Bob has something for everyone.
Samantha Rager is a unbelievably talented individual, highly regarded in the Michigan comedy scene. She has performed in many states and venues, with many festival and feature credits on her outstanding resume. Checkout her new album Trigger Warning available on Itunes.
Andy Beningo With over 2,800 career performances, Andy Beningo has established himself as one of the most in demand comedians working today. Hailed for his clean and "every man" style, Andy has been named one of the 40 Best Up and Coming Comedians in the country, as well as "Best Comedian" by both the Detroit Metro Timesand Detroit Hour magazine. He recently taped a special for Drybar Comedy, and has appeared on AXS Gotham Comedy Live, as a final four finalist on CMT's Next Big Comic, and on the Bob and Tom radio show. Andy's new CD, 'Quiet Coyote' regularly plays on Laugh USA on XM Sirius Radio. His rare ability to find humor in subjects like growing up the middle child, his short lived career as a middle school teacher and our society's obsession with technology has made him a crowd favorite in audiences worldwide.
Beningo has performed in corporate events for Fortune 500 companies (like Dow Chemical, Cisco Computers and All State), in colleges, church functions and on cruise lines. He has shared the stage with many of his comedic heroes, including Frank Caliendo, Greg Giraldo, John Heffron, Dave Coulier, and Rocky Laporte. He has performed in some of the finest clubs in the country, including Gotham Comedy Club in New York City, Zanies in Chicago, Comedy Store in Los Angeles, and nationwide in the Improv and Funny Bone Comedy Club chain. Comedy Festival performances have included: Gilda's LaughFest in Grand Rapids, MI (where he was the warm up act for Betty White's sold out show at the DeVos Center), the Detroit Comedy Festival, the Great American Comedy Festival (at the Johnny Carson theater) and theClean Comedy Challenge- where he won several awards.
Andy continues to accumulate accolades- as he was recentlynominated for Comedian of the Year by the AMG Heritage Awards. Other radio and small television appearances include: being heard on Chick McGee's Off the Air Podcast, the Daren Streblow Comedy Show and overseas on the American Forces Network. Appearances on the NBC affiliate show "Night Shift with Kevin Ferguson,"the Comedy Time Network, Comcast Cable's "Open Mic" and on MavTV have been well received. Beningo won the Clean Guys Unbleepable Contest- and his stand up clip on text messaging premiered before Dave Coulier's Clean Guys of Comedy movie- which was in over 600 movie theaters nationwide. He became a favorite on Rooftop Comedy, where his material was highlighted on three different TV shows, including Comedy Cut Outs- an animated series. Rooftop also tapped him to host the National College Competition presented by TBS at both Michigan State and the University of Michigan.
In addition to stand up, Andy Beningo has starred in a very popular commercial for Pay Anywhere, and landed a small role in the film The End of The Tour starring Jason Segel and Jesse Eisenberg. He also had a very small role on the Comedy Central show The Detroiters.
Dave Landau might appear to be just like you, but he's not really. His mind goes to places that angels would fear to tread, and he has no problem telling you about it. The mark of a great comedian, it is said, is the ability to find jokes where others would find tears. Dave find jokes everywhere; with his own foibles and faults, to his family, to pop culture and the state of the world today.
Cutting his comedic teeth as a teenager in Detroit in the Second City's Conservatory, Dave Landau has risen to become one of the most in-demand headliners working today. He's appeared 5 times on Comedy Central's and AXS.TV's "Live At Gotham" and was a finalist on season 8 of "Last Comic Standing" on NBC. He become a regular on the extremely popular "The Artie Lange and Anthony Cumia radio show," and was honored to be brought in full time as 3rd mic. When Artie left the program, It became "The Anthony Cumia Show with Dave Landau" and continues to gain popularity and new subscribers daily.