Sal Demilio
Appearing December 3rd. Sal Demilio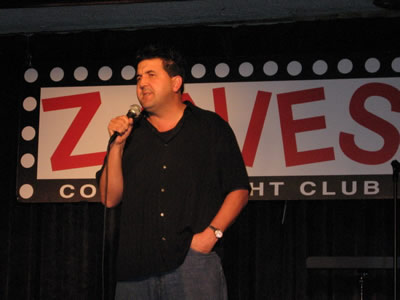 About Sal Demilio
Growing up Italian there was never a shortage of food, "I would have liked to have eaten out, but until McDonalds comes out with a 30 piece McRavioli, I'm eating at Mamma Louise's.
Corporate clients such as Ford Motor Company, Home Depot, United Way, Arizona Beverages and 7 Up Bottling Company have all had the pleasure of Sal performing at their National Sales Meetings. 7 Up General Manager, James Fox, "Sal was hysterical; he had my national sales force in stitches for 45 minutes. Any company would benefit with Sal as their entertainer."
Sal is a national headliner and performs regularly at such top clubs as Zanies, The Funny Bone, Hilarities, Mark Ridley's Comedy Castle, and The Laugh Factory.
Sal has complimented such acts as Dave Coulier, Dave Attel, Kathleen Madigan, Nick Dipaolo, Lewis Black and Bobby Collins.
Sal is proud to release his debut CD "Fettuccini Salfredo" available at saldemilio.com