November 2nd
Comedy 4 Harper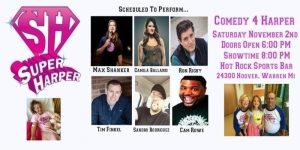 This is a different show for us. Most of our shows are to help childhood cancer families financially. Tim Finkel asked us to help this brave young girl. Harper is battling a rare skin disease called linear scleroderma. She is entering year six of her battle. While there is currently no cure. Harper wants to change that. "Team Super Harper" will be donating the proceeds from this show for research to help find a cure for scleroderma.
Join us at the Hot Rock Sports Bar and Music Cafe on Saturday November 2nd. Doors open at 6PM with an 8PM showtime. We have 6 comedians performing, a 50/50 raffle and gift basket raffles.
Special prices for this show, we are waiving the service fees. General Admission tickets $15.00 in advance and $20.00 cash at the door. We also have VIP booths that begin at only $50.00. Besides admission to the show you get a free pizza and a pitcher of beer with your VIP booth.
Scheduled to perform
Max Shanker, Camila Ballario, Ron Rigby, Tim Finkel, Sandro Rodriguez and your headliner Melvin Bender.