Don White
Saturday March 28th.
Live At The Shelby Gardens, 50265 Van Dyke Avenue, Shelby Township, MI 48317
Doors open at 6:00 pm. Dinner served until 7:30 pm. Showtime 8:00 pm.
Join us for an evening of music and laughter starring Don White.
This is a fundraiser for 2 local nonprofit charities.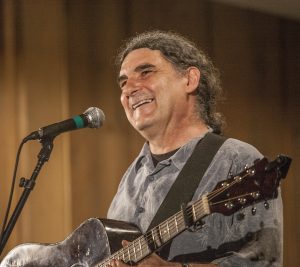 About this Event
Proceeds from this event will be donated to local non profit charities "A Mission Of love" and "Neighbors United". There will be a buffet style dinner, cash bar, a 50/50 raffle and gift basket raffles.
About Don White...
There is no one-word description for what Don White does. He's an award-winning singer/songwriter, a comedian, an author, and a storyteller. He's been brining audiences to laughter and tears for thirty years, released ten CDs, three live DVDs, and a book, Memoirs of a C Student.
His latest album is More Alive. Since 2015, he has joined master storytellers Bil Lep and Bill Harley in Father's Daze, a hilarious three-man storytelling show about the triumphs andtribulations of fatherhood. He toured North America for nine years with folk songwriting legend Christine Lavin, with whom he still plays the occasional show.
What they say about Don White...
" No artist on the coffeehouse circuit today is better than Don White at combining the heartfelt aesthetics of the singer-songwriter with side-splitting laughs."– Scott Alarik in The Boston Globe.
"…there is an honesty and self-deprecating wit in his material that is an immediate tonic." – The Boston Herald.
"I've never seen a comedian that made me both want to laugh AND go home and hug my kids." – a fan.
About Neighbors United
Neighbors United is a 501(c)3 that assist local families in need, children with cancer, homeless veterans and Firefighters with cancer. Funds from the Don White comedy will assist firefighters with cancer and local families.
About A Mission Of love
A Mission Of Love is a 501(c)3 that offers emotional and financial support for childhood cancer families. Each month AMOL provides a gift for a child battling cancer and are in the process of establishing food card programs for extended hospital stays.